Counselling in Croydon
My name is Lesley Ludlow and I am a BACP Senior Accredited Counsellor based in Shirley, providing private counselling to clients in the Croydon area since 2001.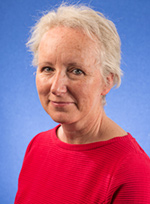 Sometimes, in life, we can reach a stage where we feel isolated and unable to cope. Maybe an event triggered this like a death of a close friend or family member, break up of a marriage, illness or a trauma and we find ourselves in a place that is difficult to get out of without help.
Research has shown that it helps to talk to someone neutral who is able to see your position from an unbiased viewpoint. Counselling is not about giving advice or telling you what to do — it is about sharing your situation with someone, in a safe, confidential environment, who can work with you to hopefully change the perspective from perhaps the troubled view that exists at the moment. It can help you look at the options you have available to allow you to be more in control of your life.
Long and short term counselling to individuals and couples
I work with adults, either individually or as a couple, on a long term basis, once or twice a week, dependent on need, or short term focused counselling (usually 6-12 sessions).
Please take a moment to read through my website for a more comprehensive view on my experience and the issues I work with.
If you think I may be able to help you're welcome to contact me by phone or email (details above) to ask questions or make an initial appointment.